Your Repair and Maintenance
Solution
  Falcon Contracting brings professionalism, craftsmanship, and customer service to the commercial service trade. Our commitment to customer satisfaction is the reason we are the first to be called by our clients, and the first to be referred by them as well. We have been proudly serving businesses and property owners in the southeast Michigan area for many years. We are dedicated to providing our clients with quality work at fair prices. We pride ourselves on our personalized service and attention to detail, and even surprise new clients by showing up on time, returning their phone calls, and cleaning up after ourselves - a rare trait in today's service market.
Our Rates
For general repair services, we charge a $65.00 flat rate for the first hour, and $48.00 per hour thereafter, billed in half hour increments. We charge a one hour minimum, and we allow up to 20 minutes travel time to your business before we start the job clock. We require full payment at the completion of the project, unless other arrangements have been made beforehand.If we feel that the work you want completed will be more involved and will take more than a few hours, we will advise you of this, and if you desire we can give you a written estimate on the entire project, as well as material deposit and payment requirements.

If the work you want completed will be more involved than what would be generally be considered general repair work, there could be a higher hourly rate, due to more involved techniques or the use of specialty equipment or materials. We will advise you beforehand if this is the case. Our repair service appointments are available Monday thru Friday, from 7:00am to 6:00pm EST, and at night or on weekends by special appointment. Their may be a additional labor cost for after hours service work. We will do our best to accommodate your schedule.

We work at night or early in the morning to accommodate some of our commercial clients that can't have us doing repair or remodeling work during their normal business hours for reasons of safety, security, or just plain inconvenience. We will also do our best to answer after-hours emergency service calls, but we make no promises as to the availability of a technician.

About Our Rates

Our rate structure is based on actual operating costs plus a reasonable profit margin. We are in business to earn a living just like you. We don't mark up our rates just because you are located in an affluent city or neighborhood. We charge all our clients the same, and we post our general rates right here on our website for all our clients as well as potential clients to see, along with any minimums and other policies concerning our rates. Chances are, if you are calling us due to a referral, pricing will most likely not be a factor in your decision to hire us. You expect quality work and you already know we will provide it.

Do our rates seem expensive? Maybe. But consider this. We pay liability insurance, licensing fees, vehicle insurance, and we have a well equipped truck stocked with a large selection of common parts. We also have a large collection of tools and equipment that give us the ability to complete your project faster, safer, and with higher quality than some of the "cheaper" handyman services you will find out there.

Most "handymen" rarely have any type of liability insurance, and are usually not licensed. Some drive around in an old truck with a few tools and some basic parts. While most mean well and many can do a nice job, many business owners don't realize that these uninsured and unlicensed contractors can be a significant liability to them or their property. With no insurance, what happens if they do damage your business, or worse yet, hurt or injure an employee or customer on your property? And often, the lower the cost per hour, the lower the skill level.

We can usually complete the job in less time because we stock a large selection of common parts and have the tools necessary to do the job right on the truck. We don't waste time looking for tools, running home for the "right tool" or having to go buy a simple part.

So in the long run, better equipment, readily available parts, and less time spent on the job equals a lower cost, higher quality job for our client.

We are committed to our customers and offer a one year limited workmanship guarantee on all work we perform. We stand behind our work and will do everything in our power to assure your satisfaction.
Services We Provide To Our Clients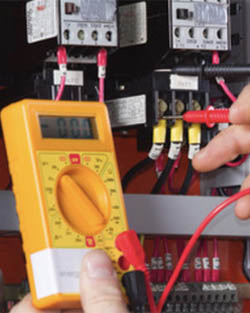 Electrical Repair
We can replace defective receptacles, switches, or dimmers in your business, as well as repair lighting fixtures including replacing bad ballasts or changing lamps. We can also check and replace exhaust fan and ventilator motors.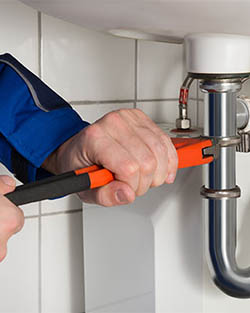 Plumbing Repair
Let us take care of your plumbing repair issues. We can repair or replace commercial faucets, repair plumbing leaks, repair toilet flush valves, as well as handle virtually any of your plumbing repair and maintenance needs.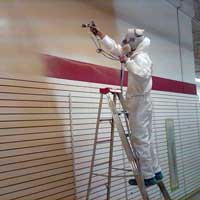 Commercial Interior Painting
We offer affordable painting solutions for commercial businesses. Whether you just want to add visual appeal to your office, modernize the colors in your restaurant, or brighten up that lackluster lobby area, Falcon Contracting can help you with all your renovation and painting needs.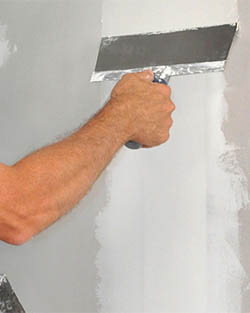 Drywall Repair
We can repair water-damaged drywall or drywall damaged by physical impact, as well as repaint the area to make it look like nothing ever happened. We can also repair drywall that has been cut into by other trades or contractors to gain access to plumbing pipes, electrical wiring, etc.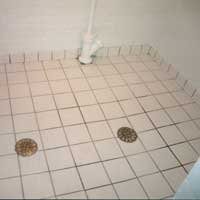 Ceramic Tile Installation
You can modernize the look of your business as well as create an easy to maintain service with the installation of ceramic tile. Ceramic tile is a cost-effective solution to flooring, it's durability has proven itself years, it is easy to repair, and offers a great deal of design flexibility.
Suspended Ceiling Installation & Repair
Suspended ceilings offer a variety of benefits to a business owner. They allow easy access to plumbing systems, electrical wiring and controls, as well as other building subsystems. They come in a wide variety of styles, textures, grid choices, and colors, giving you almost endless design possibilities. Depending on the tile selected, they can provide soundproofing, energy efficiency, and fire resistance. One of the greatest benefits of a suspended ceiling is that they are easy to repair if they become damaged.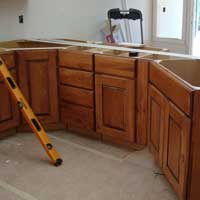 Cabinet Installation
We can install cabinets in your office, conference room, kitchen, break area, or storage area. We we deal with several cabinet companies and can provide and install just about any cabinets you would need, or we can install cabinets that you provide.
High Pressure Laminate Countertops
Laminate countertops have been around for a long time, many people feel they are boring and outdated. With today's advanced technology, laminate countertops are more durable than ever, and are also available in many more patterns and colors than ever before. Laminate countertops can be customized in just about any shape or configuration, and there are several edge treatment options available.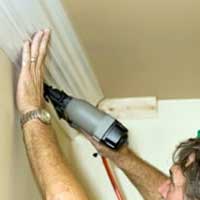 Finish Carpentry
We can install upgraded trim work in your office, new crown molding in your conference room, or repair damaged trim in your lobby. We can build shelving for storage areas, or display cabinets in your reception area.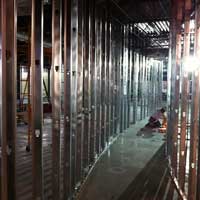 Commercial Build-Outs
From a simple office make-over to a complete remodel, we have the resources to complete your project on time and on budget. From demolition to the final brushstroke of paint, we will make your new or updated office something you can be proud of.
Farmington Hills - Farmington - Livonia - Northville - Novi - Wixom - Walled Lake - Southfield - Lathrup Village - Berkley - Huntington Woods - Ferndale - Oak Park - Garden City - Westland - Commerce Township - Orchard Lake Village - Keego Harbor - Bloomfield Hills - West Bloomfield - Troy - Franklin - Bingham Farms - Beverly Hills - Royal Oak - Clawson - Madison Heights